The Deutsches Kulturforum östliches Europa (German Culture Forum for Central and Eastern Europe) was founded in Potsdam on December 19, 2000, as a non-profit organisation. This institution is financed by the Federal Government's Commission for Cultural and Media Affairs, following the policy of research and presentation of German culture and history in Eastern Europe. The organization's members and sponsors are juristic persons from cultural and academic fields.
Aims and Functions
Cultural traditions of Germany's historic eastern territories and areas of German settlement in Central and Eastern Europe as well as in northeast, east and southeast Europe have increasingly gained recognition as a common cultural heritage by those neighbouring states. These traditions can serve as a foundation for a concordant relationship in the present as well as the future. The historically determined and now aged mutualities have long been uncontested in academic spheres and must be presented on a broader public scale. The exemplary relations between France and Germany have shown that cognizance, acceptance and comprehensive of a culture are essential prerequisites for the stable and enduring equilibrium. In view of its proximity to candidate countries for European Union enlargement, the state of Brandenburg is especially suited as seat of the Deutsches Kulturforum. Moreover, from this location opportunities for cooperative work with various institutions and foreign embassies outside of Potsdam can be undertaken to greater extent.
The aim of the Deutsches Kulturforum is to organize forums on the common aspects of German culture and history in Central and in Eastern Europe, in which institutions, scholars, teachers, students, pupils and generally interested persons can participate. The humanities, literature, music and fine arts form the main disciplinary background, whereby emphasis will be placed upon the 19th-20th centuries and contemporary culture while diversity, mutuality and affiliations are brought to attention. The results of pertinent research carried out by prominent institutions in Germany and neighbouring states will also be conveyed. The Deutsches Kulturforum achieves its aims and fulfils its obligations through international cooperation with cultural organizations, museums, educational institutions, universities, as well as associations of writers, musicians and authors. Besides the traditional media, the Deutsches Kulturforum disposes over modern multi-media, such as internet, to maintain and expand its sphere of contact.
Promotion of Art and Culture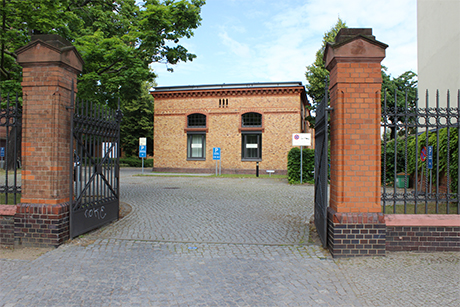 Seat of the German Culture Forum for Central and Eastern Europe is Potsdam
Through conferences, seminars, fellowships, lectures, public debates and exhibitions the Deutsches Kulturforum endeavours to present the art and culture of a historical region, characterized by its ethnic and cultural diversity in the past and today as well to an extent, to a larger public. Nearly forgotten aspects and features should be recalled and reinstated. Future publications of the Deutsches Kulturforum forums are directed towards dialogue and exchange with culturally interested members from neighbouring states. Moreover, as of the year 2002 the Deutsches Kulturforum will award prizes to scholars and publicists, conservationists, writers and musicians, and supports young artists with scholarships.
Deutsches Kulturforum östliches Europa
Berliner Straße 135 | Haus K 1
D-14467 Potsdam
Tel: +49 331 20098-0
Fax: +49 331 20098-50
E-Mail: deutsches[at]kulturforum.info
Web: www.kulturforum.info